"We will be stronger.  Let's not waste a crisis."
As the world battles the COVID-19 crisis, leaders heading businesses are making difficult, high stakes decisions under volatile, uncertain and ambiguous conditions. Garry Ridge, Chairman and CEO of the beloved WD-40 company, is responsible for developing and implementing high-level strategies, plus the oversight of all relationships and partnerships for the company. He generously agreed to speak with me about leading through crisis.
Podcast: Play in new window | Download
Subscribe: Google Podcasts | RSS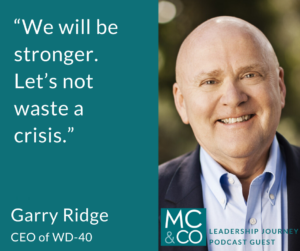 Like many of you, Garry and his team at WD-40 are focused on navigating through this global pandemic.  Following is the WD-40 Leadership During Crisis Playbook as shared by Garry.  It starts with your people, "There is nothing better in a crisis than a highly engaged tribe with a very strong culture.  We define our tribe as a group of people that come together to help protect and feed each other.  That is at the core of what we do…we are a stronger tribe today than we were yesterday, because of this crisis."
There are 3 areas where the WD-40 tribe is focused:
The safety and well-being of our tribe. Communicate regularly. Put a message out to your people every day. Show support and help your team clarify their thinking.
Stay connected with your team,  your customers and remember to support your vendor partners.  Right now, the term should not be "social distancing" – it must be physical distancing and social connection. Make sure you and your people are becoming more socially connected.
Maintain your business infrastructure, and be ready to thrive when we come through this. Ask yourself how you can maintain – to the best of your ability – your business structure.  Brainstorm with your team: What do we know? What can we do with what we know? What don't we know?
Your people are looking for a steady hand on the rudder. It's crucial right now.  Turn up the volume on reminding them of your company vision, communicate often and stay connected.  For more on Garry Ridge's advice on guiding through this tumultuous time, listen to the podcast.  To get a pdf of Garry Ridge's Issue Response Plan, click the image below.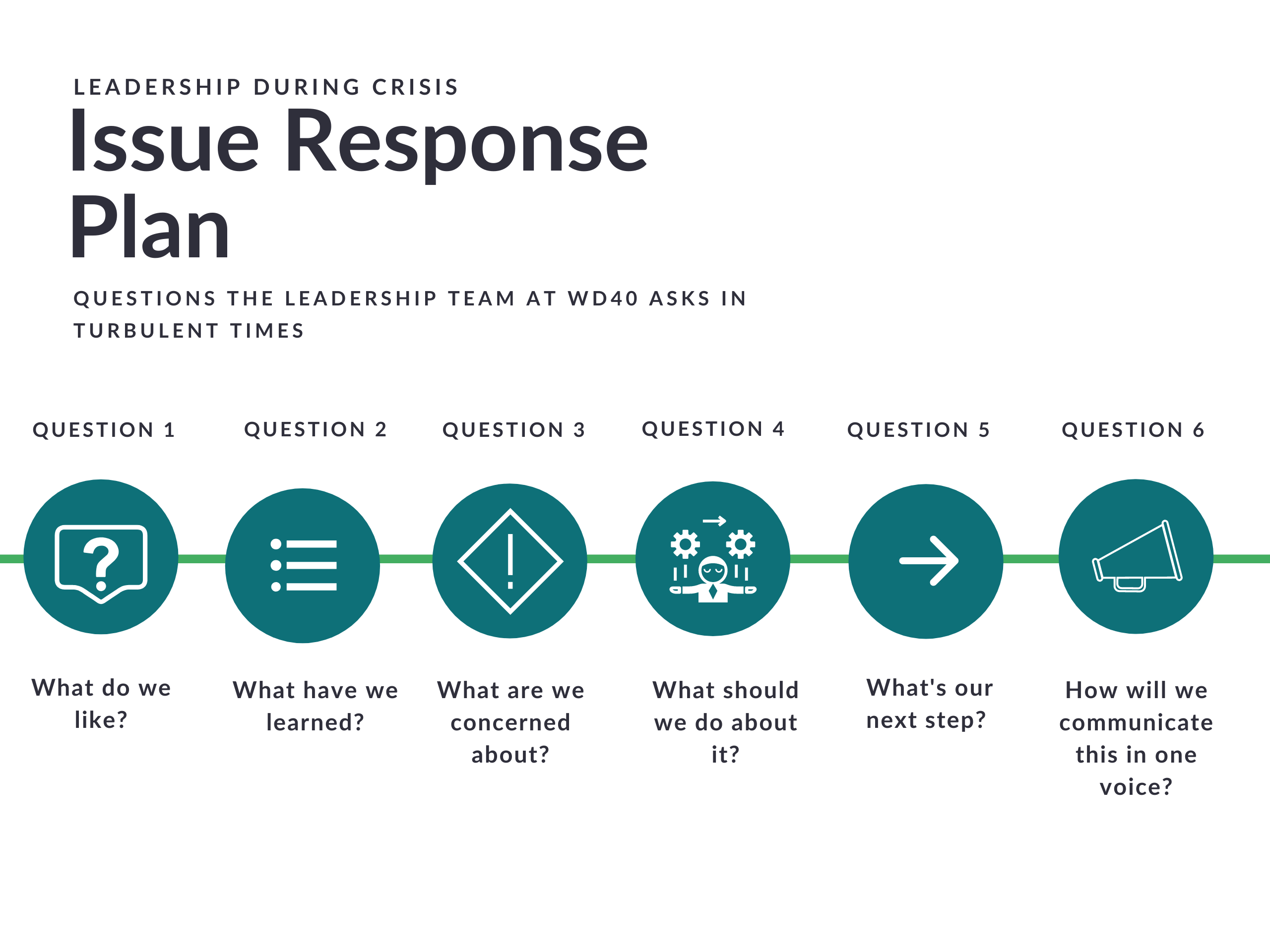 Garry has been with WD-40 since 1987 in various management positions, including executive vice president and chief operating officer. He has worked directly with WD-40 in 50 countries, and is renowned for his accomplished leadership skills. As CEO and Board Chairman,  he has worked directly with the WD-40 Company in over 70 countries. Mr. Ridge is an adjunct professor at the University of San Diego where he teaches leadership development, talent management, and succession planning in the Master of Science in Executive Leadership program. He co-authored the book "Helping People Win at Work" with executive coach Ken Blanchard.
Remember to take care of yourself this week, and that your leadership is crucial.