Nash Subotic of WestPac Wealth Partners on Culture, Training and Blue Ocean Strategy
Nash Subotic, CEO and the driving force behind WestPac Wealth Partners, has spearheaded the creation of an admired financial services firm known for its remarkable growth. With a formidable presence in over 10 states, an impressive $17 billion life insurance face amount, $2.5 billion assets under management, and a robust team of 270 professionals, Nash has diligently focused on leading an organization that thrives on its culture, training, and innovation.
In just 15 years, WestPac Wealth Partners has achieved staggering revenue growth starting from 0 and currently at $42 million, a testament to their exceptional leadership.  Nash understands that the key to success lies in simultaneously addressing the present and preparing for the future.
The secret to WestPac's growth?  Leadership that keeps an eye on the present while continuously investing in the future. 
And the future, Nash says, is all about teaming.   
In an era where large companies and artificial intelligence are chipping away at single service financial advisors, Nash sought out a "blue ocean" strategy.  Asking "Where can we provide the most value?  Who needs help with their financial planning, insurance and estate planning needs?  How can we partner in the community to build relationships that would be the cornerstone of WestPac Wealth Partners?"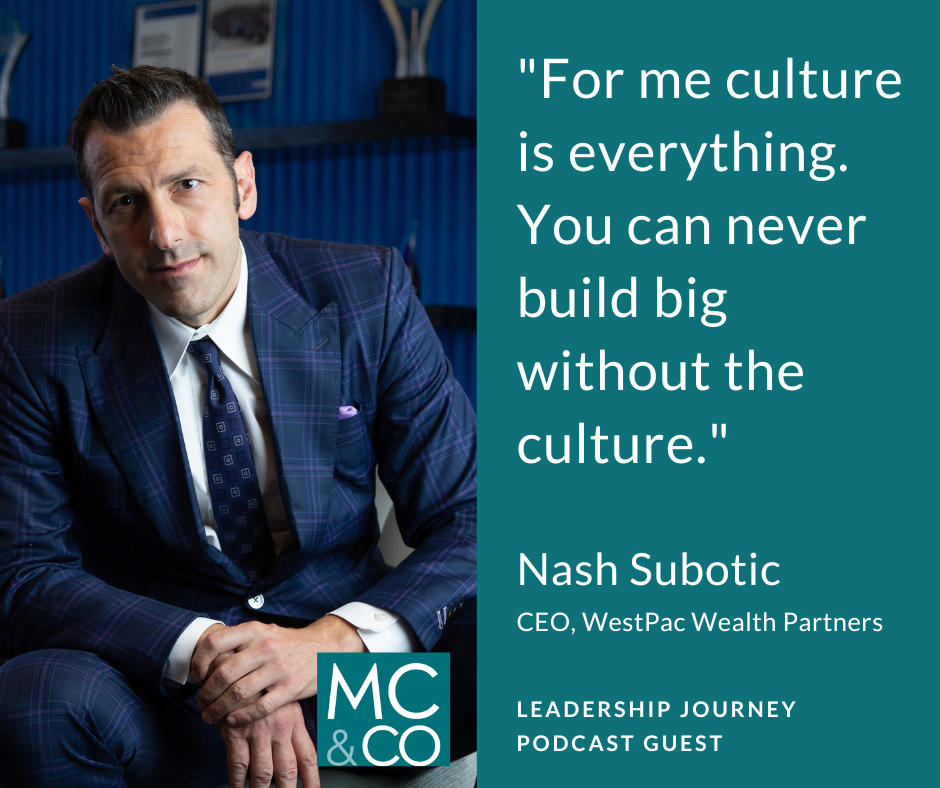 By asking these questions, creating a strategy to solve them and carefully curating a team that provides inspired solutions for clients has led his organization to unparalleled success.  
Not one to rest on laurels, he took things further. 
As WestPac Wealth Partners grew, Nash took the word "Partners" to heart.  He prioritized team culture.  He incorporated diversity before it was trendy.  Training became the backbone of the organization, with daily, monthly and in person bi-annual meetings designed to connect and inspire his team to go the extra mile and help the client before themselves, always. 
During our conversation, Nash shares three tenets that continue to drive WestPac Wealth Partners' exponential growth. First, thinking strategically—identifying industry factors and seizing opportunities to deliver value. Second, fostering an intentional culture where individuals feel welcomed and motivated to give their best, enabling work-life balance and leveraging diverse perspectives. And last, promoting constant personal and career development through a daily commitment to training, nurturing the right mindset, and fostering in-person collaboration.
Nash Subotic exemplifies the saying, "Do what you love, and the money will follow." His passion for his team and clients is a testament to his exemplary leadership. While these transformative shifts did not occur overnight, if you are ready to build an exceptional organization like Nash's, we have what you want. I have had the privilege of working with Nash and an array of outstanding leaders who are titans in the financial services industry.
Embark on your path to success today by clicking the button and filling out the High Performing Teams Survey. Together, we will set you on the journey towards building a truly exceptional organization.