People don't quit their job – they quit their boss and the company culture.  In our current world of 3.6% unemployment, your most valuable skill is your ability to attract and retain top talent.
  So, how do you keep your best people?  Recent Gallup research found that at least
70% of the variance in team engagement is explained by the quality of the manager or team leader.
Podcast: Play in new window | Download (Duration: 24:48 — 25.5MB)
Subscribe or Follow Google Podcasts | RSS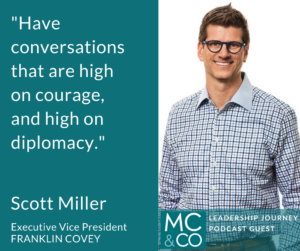 Your skills in authentic leadership, relationship building and effective communication will continually be tested in order to attract, develop and keep the best people on your team.  The good news is, most of what your top talent wants from you is not complicated nor difficult to deliver. After you listen to our podcast today, you will have a clear idea of where to start. 
Our guest, Scott Miller, is a New York Times Best Selling Author, Executive Vice President of Thought Leadership at Franklin Covey, podcast author and popular speaker.  His most recent book is
Management Mess to Leadership Success: 30 Challenges to become the Leader You Would Follow
.  He joins me to discuss critical leadership practices that, when applied regularly, will significantly impact your ability to attract, develop and keep your top talent.   Like all leaders, he's had his share of wins and mistakes during his 30+ years leading people and teams at Disney and Franklin Covey. Unlike most leaders, Scott is willing to lay bare his mistakes, discuss specific ways to approach difficult leadership situations and offer tactical advice that leaders can use to coach themselves to become the type of leader they would follow.  
Our conversation focuses on the challenges in Scott's book that my clients will get big wins from addressing immediately.  By turning these practices into consistent habits, you'll be known as a leader that brings out the best in their people and top talent will line up to join your team.
Here's our focus: 
Declaring intent in your interactions and why it matters

Delivering vs. avoiding difficult conversations
Allowing others to be smart
Taking ego risks – get off the bleachers and on the court
Choosing fearless vs. reckless leadership
What actions will you take now to become a better leader today?
Podcast: Play in new window | Download (Duration: 24:48 — 25.5MB)
Subscribe or Follow Google Podcasts | RSS