Set Up the "Monster" Succession Opportunity
Structure your teams for the modern age
Steve Good has dedicated his career to empowering the next generation of financial advisors. Currently the Director of Practice Development for 1847Financial, Steve brings years of experience and a wealth of knowledge to the table, having successfully transitioned from a top-performing life wholesaler into agency leadership. Obsessed with growing 1847Financial through strategic Teams match making, he seeks out and sets up the right talent with the right opportunity on the team.  Then, he confirms specific expectations and provides abundant resources for success.  This method ensures he plays the long game in setting up succession for his firm, and is leading his financial advisors to build strong, thriving, generational sales teams. Steve's gifts of targeted communication, strategic thinking, and skill development has made him an invaluable resource for advisors looking to build their teams, achieve long-term success and have a true succession plan in place.
In this episode of The Leadership Journey podcast, Steve reveals his innovative approach to teaming for long-term success in financial services. 
Join the conversation as Steve discusses how to:
Embrace a Teaming mindset and action plan for your financial services firm

Assemble top-tier teams by hiring individuals with unique and complementary skills

Realize the impact of encouraging creativity and innovation within your team's collaborative efforts

Recognize the urgency of providing succession opportunities to guarantee your Firm's future 

Become a champion of Teaming for growth, long term generational client relationships and solutions to  challenges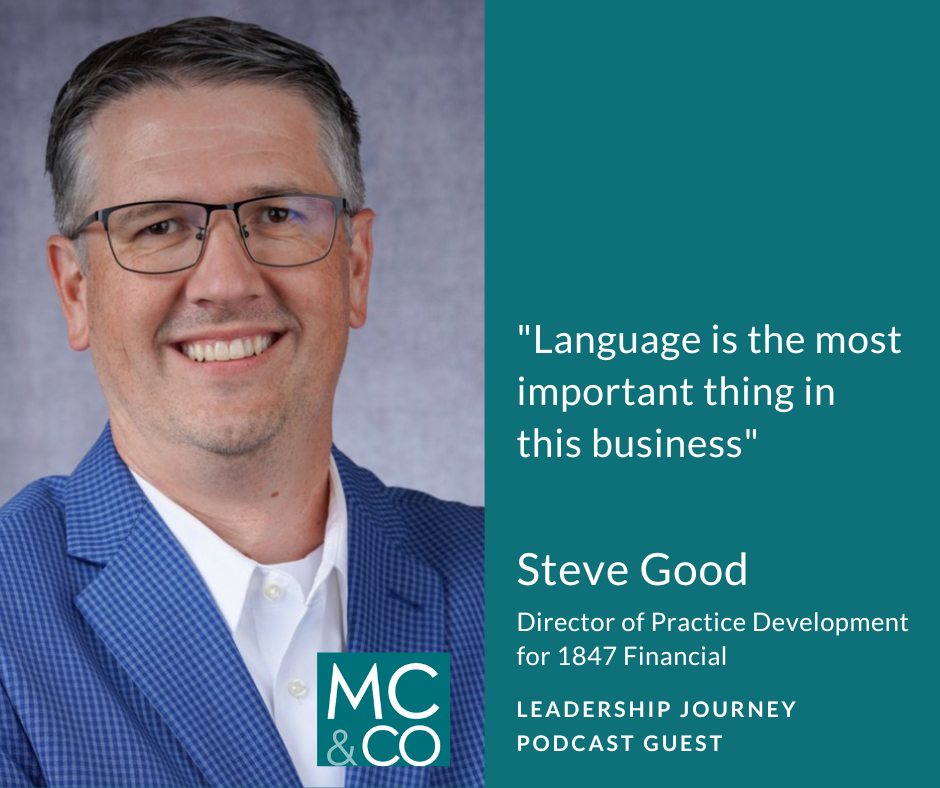 He covers three topics dear to the hearts and minds of firm leadership: challenges to growth, how to avoid losing millions (or billions) of dollars upon generational shift, and how to move your current team to its ideal! 
Challenges of Growth
Growing your financial services business constantly requires attracting talented professionals with different skills, expanding the client base, and retaining existing clients. The Unicorn with deep knowledge in various financial areas and/or understanding pensions and benefits is next to impossible to find now.  Steve suggests creating a succession opportunity and building a team that consists of two, three, or four people, each with their unique specialties, skills and perspectives. By embracing the Teaming model and having the resolve to overcome challenges, financial advisors can build stronger, more successful businesses that last for generations.
Teaming to Keep Business
A solid, healthy and functional team inspires innovation and a constant desire to get better, do better. Teaming at 1847 strives to have individuals with diverse skills and backgrounds, working together to achieve common objectives. This is why teaming plays a crucial role in ensuring long-term success for both financial advisors and their clients. Steve's "Team's 2.0" model allows flexibility and does not force teams. Rather, the model moves them from matchmaking to dating, making it more comfortable during the formation and collaboration of new teams, yet still very productive.
Moving Teams to Your Ideal
Successful teams must be adaptive and open to change. Embracing innovation and continuously refining strategy allows your firm to meet the evolving needs of clients and stay ahead in a competitive landscape. To achieve this, leadership and advisors must be open-minded, determined, and resilient in order to achieve long-term success. 
Are you ready to create your own 2.0 Team?  
Don't wait – it's time!
Click the button and start by taking the High Performing Teams survey and let's get you started!
Compliance Code: 5779543RG_Jul25