Cracking the Code for Rapid Team Growth in Financial Services
As a leader of a financial services Firm with sales team/s, you are constantly focusing on ways to grow without significantly increasing your bottom line. With demands for increased performance as you expand, it's easy at times to become overwhelmed by the long list of "how" questions – how to best implement new ideas, how to improve processes, how to grow new business opportunities, how to scale sales teams…while currently serving your current advisors, the Firm's support team and client base.  The list of "how am I going to…?", seems endless. Finding the best next step to scale while seeking answers to these "how" questions –  can create analysis paralysis and hold your firm back. 
Jerry Tavella, Partner with both Strategies for Wealth and Prosperian Wealth Management, has cracked the code…and it starts with shifting from "how" questions to "who" questions and includes a strategic path.  The exciting news is that this blueprint for scaling Team growth is proven to be replicable in your firm too!
Jerry began his career at Prosperian Wealth Management fresh out of college alongside Founder Marty Nachemson, who brought him in as his Team Protégé. Over time, he experienced  almost every role at Prosperian as their Team continued to grow from four to twenty one members.  With continual coaching from Marty, he gained expertise into the processes and systems that underpins the success of every role within the Team.  As Jerry expanded responsibilities, he discovered ways to streamline and refine their business model, sharing observations with the Team and implementing improvements into the practice.  The end result is that Strategies for Wealth is recognized as a red hot incubator of high performing independent Sales Teams  – currently at eight and growing. 
"The concerns Advisors constantly deal with are the "how" challenges.  How can I possibly implement all of these great ideas I pick up when I go to conferences?  How can I be improving my intellectual capital?  I know I need to improve my processes and efficiencies…how am I going to do that while fulfilling the promises I make to my clients, being their single point of contact?  How am I going to grow new business opportunities? How am I going to do all of this while continuing to prospect and spend time with my best clients?" 
Stop the madness of solving for "how" and shift to asking and solving for "who"! This approach helps you create the right structure to achieve rapid, repeatable growth in your Teams and Firm.  
Jerry recommends three steps to move toward rapid, repeatable growth.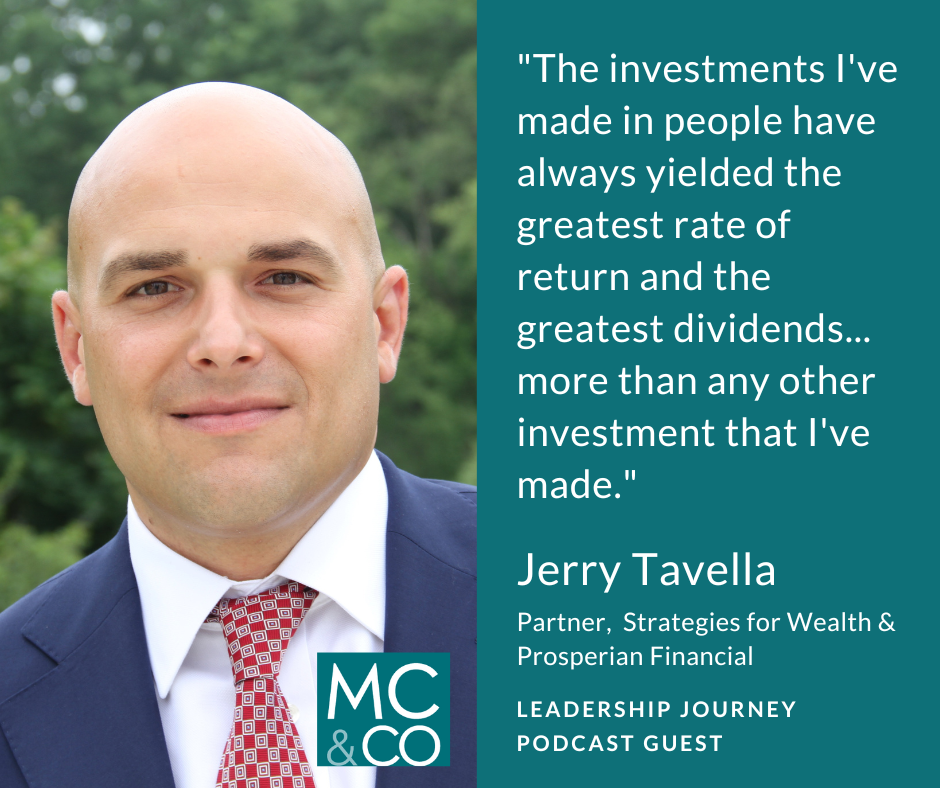 Stop asking HOW and start asking WHO in order to accelerate growth in your Firm.  These are the 7 key roles in Strategies for Wealth and Prosperian Teams model: Partners, Junior Advisors, Mentees, Investment Specialists, Underwriting Administrative Assistants, Wealth Management Administrative Assistants and the

Protégé.

Commit  to developing and supporting a  true P

rotégé

role. It's the most important position for the Teams model to grow.  The P

rotégé functions as a "Promise-Keeper", helps the Advisor execute in their lane of excellence, and ensures exceptional experiences for clients.

Create repeatable, aligned and consistently applied processes.  Regularly confirm that your Teams are following and using agency systems. 
This is not a once and done formula. It's been proven over and over and continues to fuel the exponential growth of both Prosperian and Strategies for Wealth. 
It can work for you too! 
If you are ready to grow your Teams, let's get you there faster.  McCauley & Co has been working with sales teams for over 20 years and can help you map out a strategy for creating or expanding Teams already in place.  
Schedule a complimentary, 45 minute 3 Point Teams Strategy session with Kelli McCauley below.