Winning the Talent War
Compensation Strategies Biotech Uses to Attract & Retain Top Talent
Keeping up with hiring trends takes constant attention, research and creativity.  Based on anecdotal evidence, it appears that comp is king! I checked in with Mike Esser, Managing Director with Pearl Meyer, a highly regarded expert on executive compensation to learn what he's seeing in Biotech, Life Sciences and Medical Devices. He shared insights into current practices and what boards and senior management need to know about creating a competitive compensation package.
Want to attract and keep the best? A competitive compensation package is key to getting the specific skills you need.  However, when it comes to Biotech, developing an affordable and effective compensation strategy can be complicated for companies that are still pre-revenue.
Typically, compensation levels are commensurate with the size of the company, measured either by revenue or market capitalization. But companies in the life sciences and biotech sectors can spend considerably more time in the pre-revenue phase due to long-term factors such as clinical trials. There are no revenue boundaries to measure pay scale by. Compensation rates are usually set at pre-established market pay levels compared to similar companies. In the highly competitive world of the life sciences sector, with a pay scale that doesn't always reflect the true potential and scope of your enterprise, how do you attract and retain the top talent you need?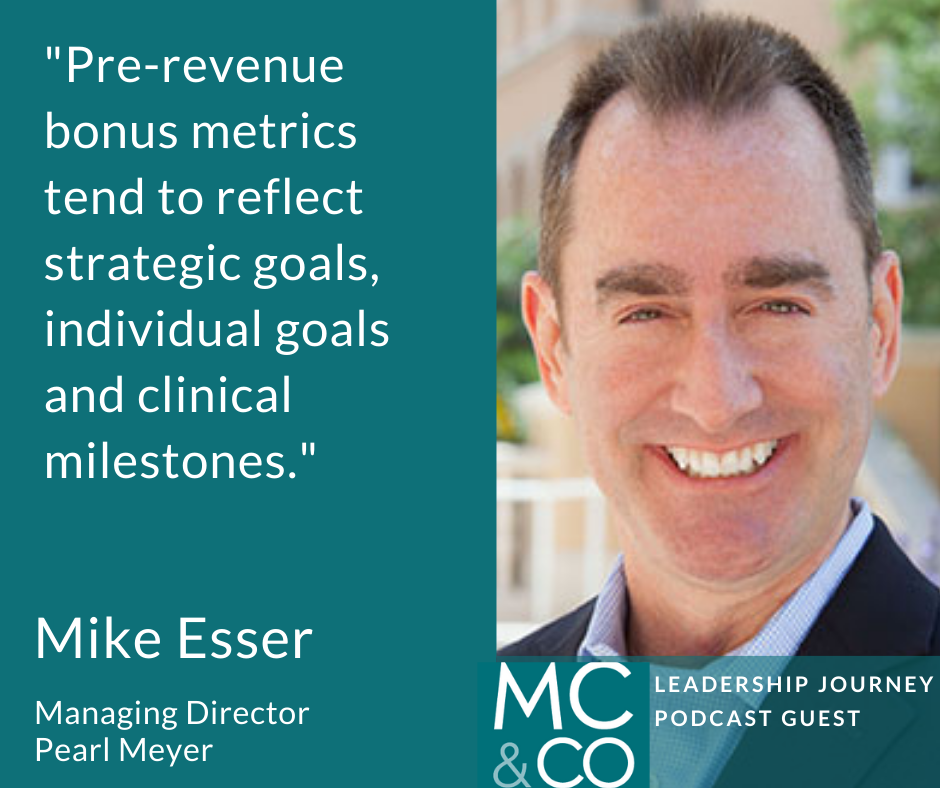 The current trend leans heavily toward equity. Organizations in the Life Science sector burn through 2 to 3 times more shares in bonus packages, compared to other industries. There are risks involved because the company may not even survive to the revenue stage, but when cash is tied up in R&D, equity can be what sets you apart.
Mike explains it like this, "bonus plans in other industries are often set around hard financial metrics, whether it's revenue or profitability. But in this sector, we don't have those same metrics. In pre-revenue situations, profitability isn't even on the horizon for several years. So, the bonus metrics tend to reflect strategic goals, individual goals, clinical milestones, that sort of thing. A lot more discretionary or subjective than hardwired financial results."
Creating an effective compensation package that is both enticing to the people you need to attract and financially feasible can be daunting for managers, especially those who are new to this sector. Bringing in a compensation specialist like Mike Esser to work with your compensation committee could give your organization a substantial advantage.
Listen to the entire podcast here. To learn more about Pearl Meyer or how working with a compensation strategy specialist can benefit your organization, visit pearlmeyer.com.
Podcast: Play in new window | Download (Duration: 15:10 — 34.7MB)
Subscribe or Follow Google Podcasts | RSS