Keep Top Talent Through Mentoring
Want to retain your best people… Start with your leadership team.
We're used to the term mentorship being tossed around when it comes to top performers serving as role models and providing inspiration to promising stars rising through the ranks behind them. But are we missing something? Can high-level executives and governing boards benefit from peer mentorship as well? What does that look like and what's the ROI?
According to Carisa Wisniewski, Partner, and CPA at Moss Adams, "Mentorship is an investment of time upfront…so you have efficiency in the execution of whatever you're trying to accomplish together. If your company is growing, you never outgrow the need for mentors". The strategy for group mentoring at the board level was inspired by renowned Chairman and CEO of WD-40, Garry Ridge.  (10:44).  Her idea of starting at the top meant Partners would be leading the mentorship initiative. Ms. Wisniewski invited Garry Ridge to kick off the first session with her, and Moss Adams has never looked back.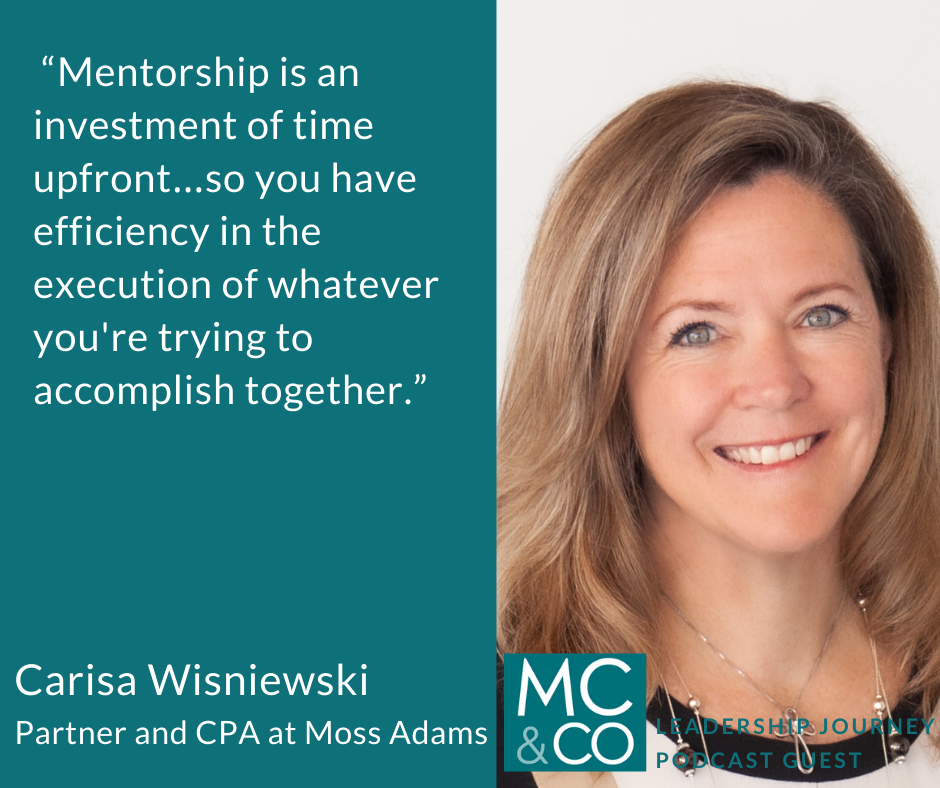 Peer Group mentorship for top-level leaders aims to ensure that everyone is not only using the same language but also meaning the same thing when they are communicating. Greater efficiency is the goal, alignment at the board, and executive level is key to achieving that goal.
Her recommendation for keeping it interesting is to include guest experts from time to time and regularly introduce specific themes that are important for the group's development (using articles, books, research). Be sure to encourage round-table style discussion. This approach creates an even playing field, newer members are heard and empowered to weigh in, the more senior members are challenged to think in new ways. The result is a better aligned, more diverse, and cohesive team. 
It's common, when we reach a certain level of success, to start thinking that we've arrived, but this thinking can be detrimental to growth. Carisa says, "as a mentor, your job is to challenge the person to think deeper…you're not giving someone answers. You're challenging them to find the answer themselves." (9:38)
Carisa continues to introduce and apply this mentoring model with great success both within her role at Moss Adams and as a peer mentor for other organizations.
You can hear the full podcast with Carisa Wisniewski here. You can find Carisa on LinkedIn and learn more about Moss Adams' expertise in accounting, consulting, and wealth management at mossadams.com.