Bob Bolt and Symphony Financial: Amplifying Opportunity and Profit with Teams

Bob Bolt is an experienced Partner and Private Wealth Advisor who knows uncertainty all too well. In 2009, a series of events – the unexpected death of his wife and the Great Recession – brought him to a crossroads in his career. 
After taking a year off to reflect and begin healing, he was drawn to the idea of helping people based on the work that his Northwestern Mutual agent had done with him.  He felt a deep calling to help others prepare for and navigate life's unexpected and expected events through sound financial planning.  And with that vision in mind, Bob started over from scratch as a Northwestern Mutual Advisor. 
As Bob's practice continued to grow, his next big move was to join forces with CEO of Symphony Financial Keith Spengel and his Partner Tom McBreen, as Partner of the Ensemble team within Northwestern Mutual's Private Client Group.  In our podcast, Bob shares what it was like going from solo advisor to Partner within a team, as well as advice for firms who are contemplating introducing the Teams model.
Inspiration and Vision.  Bob was drawn to the idea of helping people based on the work that his Northwestern Mutual Agent had done with him when he had an unexpected, life changing, personal event.  After ten years as a solo advisor, he realized that joining a team of partners with complementary expertise and talents would create even more advantages for his current and future clients.
Benefits for Advisors.  Bolt points out how teams provide a way for Advisors to leverage their specialties and work in their Zone of Genius. Not only is this more rewarding and fun for the Advisor, it's of extremely high value to their clients on several fronts.  Building a Teams based firm creates a multigenerational model, future generations are included in the plan, not just as beneficiaries.  Bob shares, "We don't own clients individually.  We own them as a Firm."  This provides a way to maintain continuity for the wishes and plans of their clients.
Yes, implementing a Teams model requires changes in how advisors work. Bob emphasizes that communication, collaboration, and accountability are essential for success.  Reading the book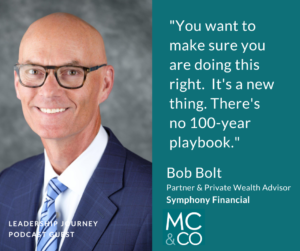 "Traction" served as a guidebook that has helped them understand how to successfully execute the Teams model.
The pact.  Commitment to collaboration was the foundation that created and launched Symphony Financial's Ensemble model.  As Bob began working with Keith and Tom, they reiterated their pact to always do the right thing.  This agreement gave him confidence that no matter what challenges arose, they would work together even through difficult conversations to resolve them. 
Is it time for you to take the leap or create more teams inside your agency? 
If you are ready to explore a Teams model, McCauley and Company can help.  We have been working with sales teams for over 20 years and can help firms with Team startups, expansion,  or an exploratory conversation.