Here's What Happens After You say "No" to a Navy SEAL.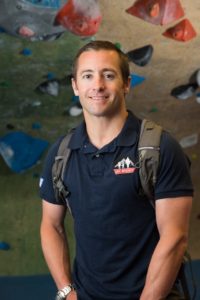 When Adam La Reau first approached hospitals with his big idea -teach children with cancer rock climbing- he was told "You can't do that…it's too dangerous"! Fortunately he did it anyway and 3 years later, over 180 kids battling cancer, including siblings by their side, 91 US Navy SEALs and hospitals in Boston, NYC and San Diego have been transformed by participating in One Summit's Climb for Courage.
Adam's objective for his nonprofit One Summit is to build courage, resilience and community with children battling cancer, alongside their families. La Reau partners elite Navy SEALs with these little warriors in a game-changing mentorship program that touches everyone involved.
While a seemingly odd pair, the SEALs and the kids have one major thing in common: both come from the front lines of the unthinkable. As mentors, the SEALs work one on one with a specially matched child on skills like goal setting and facing fears through activities like rock climbing. The SEALs report that windows open in their hearts which they never knew existed or had been forgotten.
"When you get someone out of their comfort zone, growth happens," says Adam. Thankfully, for One Summit and everyone touched by Climb for Courage, hearing "You can't do this" compelled La Reau to create all of the ways that One Summit can! Visit OneSummit.org and learn about the leading edge experiential learning that has made Climb for Courage a must do experience for children and their families battling cancer together.
Listen in as Kelli interviews Adam La Reau Co-founder of O2X, an elite organization that trains first responders, founder of One Summit, former Lieutenant Commander in the United States Navy and former Navy SEAL. For more info, visit O2X.com.
Listen below: 20 minutes, 43 seconds