The NASDAQ Way:
Reimagine and Deliver the Future Now
Since its launch as the world's first fully electronic stock exchange 50 years ago, NASDAQ has kept growth and innovation at the forefront as critical metrics of success. And that continues today. With many of the most talked-about companies on the globe, Apple, Qualcomm, Amazon, Illumina and Tesla listed with their exchanges, NASDAQ is the place to be for those looking to have a long-term partnership focused on growth at every stage of an organization's life cycle.
When asked, Dylan James, the West Coast Vice President for NASDAQ, and Head of Relationship Management for NASDAQ's Western Region and Texas shared what sets NASDAQ apart from traditional stock exchanges. And gave me these details on what to know if you're considering listing your company with them.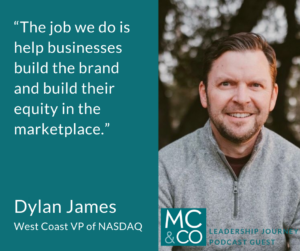 Relentless Innovation. The forward-thinking that led to the creation of the first electronic stock exchange did not rest there. Constantly-evolving technology continually changes how the world does business, and NASDAQ continues to lead with that. From being the first exchange to upload data to the cloud for safe storage to creating their technology (and selling it to their competitors), NASDAQ is obsessively looking ahead, anticipating trends, and then delivering whatever it takes to meet those opportunities and solve the challenges.

Collaborative Partnerships.

NASDAQ is committed to the quality of each listed organization's experience. From the day of a company's IPO, and through all the stages of that company's life cycle, NASDAQ is there. With the investor relations tools and services they have developed and implemented, NASDAQ is uniquely positioned to support new companies through mentoring and connections to critical resources. Whether that company is going public for the first time or simply switching from a competitor's exchange, NASDAQ is invested in the success of each new partnership. To sum it up, Dylan says  "The job we do is help businesses build the brand and build their equity in the marketplace".

Company Culture.

Besides being collaborative with listed organizations, NASDAQ has recently taken on diversity at the board level. As an organization, NASDAQ values inclusivity and support for local communities at home and around the world. Bringing those values to the highest levels of the business in a meaningful way is the latest move from a company that has always been at the forefront of its field. 
You can listen to the full podcast with Dylan James, the West Coast Vice President for NASDAQ, and Head of Relationship Management for NASDAQ's Western Region and Texas, here.
LISTEN HERE