Strategic Planning Kills Innovation
How to Outthink Your Competition & Create New Markets
If you want your organization to create something that has yet to be imagined, that your customers didn't know they couldn't live without before it was introduced, then you and your team must think in ways you haven't thought of before. When it comes to strategic planning,  the typical pattern is to rush through the ideas phase and get on with execution once the team has identified three good ideas. This common practice of settling for adjustments that produce little growth or long-term benefits are what keep companies in the middle of the pack or worse, being an industry leader and witnessing outside industries innovate and take over your market share. How do you break away from outdated strategic thinking to create growth plus new markets and out-perform the competition?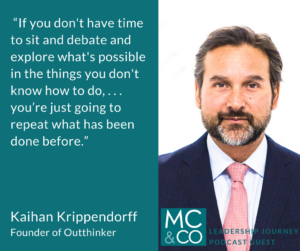 I spoke with Kaihan Krippendorff, founder of the growth strategy and innovation consulting firm OutThinker which has generated over $2.5 billion in revenue for their client companies. Kaihan says, "If you don't make time to sit and debate and explore what's possible in the things you don't know how to do, . . . you're just going to repeat what has been done before." His solution includes a five-step model for keeping the strategy conversation within your organization innovative  and moving in the right direction.
Imagine. Instead of looking at the immediate needs of the company, look ahead 10 years. What might the future look like, what might the needs of your end-users be at that time, what moves can you make now that will position you for a long-term payoff.
Dissect. Break down your business model and take a look at the less obvious parts. For example, if your focus is typically on a product, try approaching the problem from a people-based perspective instead and consider how you would solve it differently.
Expand. Generate lots of ideas, no matter how 'out there' they sound at first (aim for 100). Consider approaches that have never been used in your industry, but are proven winners in other fields. Especially don't limit your thinking here to what you know has worked in the past. The more concepts your team can float, the better the odds are that you'll find a few of the highly innovative ones that Kaihan refers to as 'disruptive ideas.'
Analyze. Sort and prioritize those ideas. Maybe an idea that sounds a bit too big or unconventional has been put forward. It has great potential value, but how to make it work is not obvious. This may not be the one you try to sell to your board and shareholders right now, but don't dismiss it. With some creativity and forward thinking, it could deliver substantial ROI in the future and potentially open up an entirely new market you have not yet considered.
Sell. This is where you get your Board, leadership team, employees, management teams and investors to buy-in. It may feel safer and easier to stick to the more familiar strategies that are common to your business sector, but if you can sell them on a truly innovative idea it will propel your business into the future, an industry leader rather than a follower.
You can listen to the full podcast with Kaihan Krippendorff here to learn more about the Outthinker experience. Visit Outthinker.com to see more of the exciting ways Outthinker is revolutionizing strategic growth within organizations.
LISTEN HERE