5 Proven Practices for Rapid Growth
An interview with Verne Harnish, CEO Scaling Up, Founder of the Entrepreneurs Organization and their premier CEO program at MIT, bestselling and award-winning author and Forbes contributor.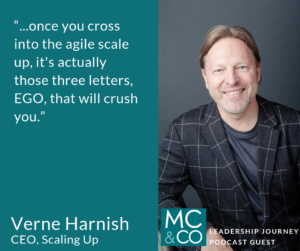 Growing a business is exhilarating. Regardless of whether you've founded your own company or are leading others to success inside of a large organization – fasten your seatbelt for a wild ride. It's especially daunting during times when your numbers indicate that growth is stalling. What's the formula that smart leaders use to make the leap to scaling up versus stagnating?
Meet Verne Harnish – CEO/Founder of Scaling up and Founder of the world-renowned Entrepreneurs Organization, also known as EO, with over 14,000 members worldwide. Verne has spent decades coaching, advising, consulting and teaching well-known leaders to successfully Scale Up (buy his book Scaling Up to find out who). A prolific author of award-winning and bestselling books like:
Verne's expertise is in helping business leaders figure out their pain point and where to put their attention. His team uncovers the obstacles CEOs need to overcome plateaus and achieve the next level of growth. In our discussion, we cover:
How to identify where your company lands on the Scaling Up spectrum
How to avoid wasting years and millions trying to figure out how to grow
How to cross the traditional mindset chasm and adopt an agile startup viewpoint
Why it's difficult for executives scaling up to objectively up-level their talent pool
The secret of the 20-25 year path to overnight success
Listen in as Verne Harnish, one of the brightest minds in scaling up and executive leadership, discusses proven practices on leading your company and your team to successfully create consistent growth!