How to Get a 99.8% Client Retention Rate
Prosperian Wealth Management Has the Playbook
Few Wealth Management and Life Insurance Firms have built high growth, streamlined, hyper-productive Teams like Prosperian Wealth Management. 
The proof is in the numbers:
Business is booming. In in 2021 alone, Prosperian brought in $100 million in new assets under management and protected clients' future wealth with another $788 million of life insurance
75% of new clients come from unsolicited introductions by current clients
Prosperian Wealth Management proudly keeps 99.8% of clients through both great and tough times
The Team is happy and engaged, staff retention is 90%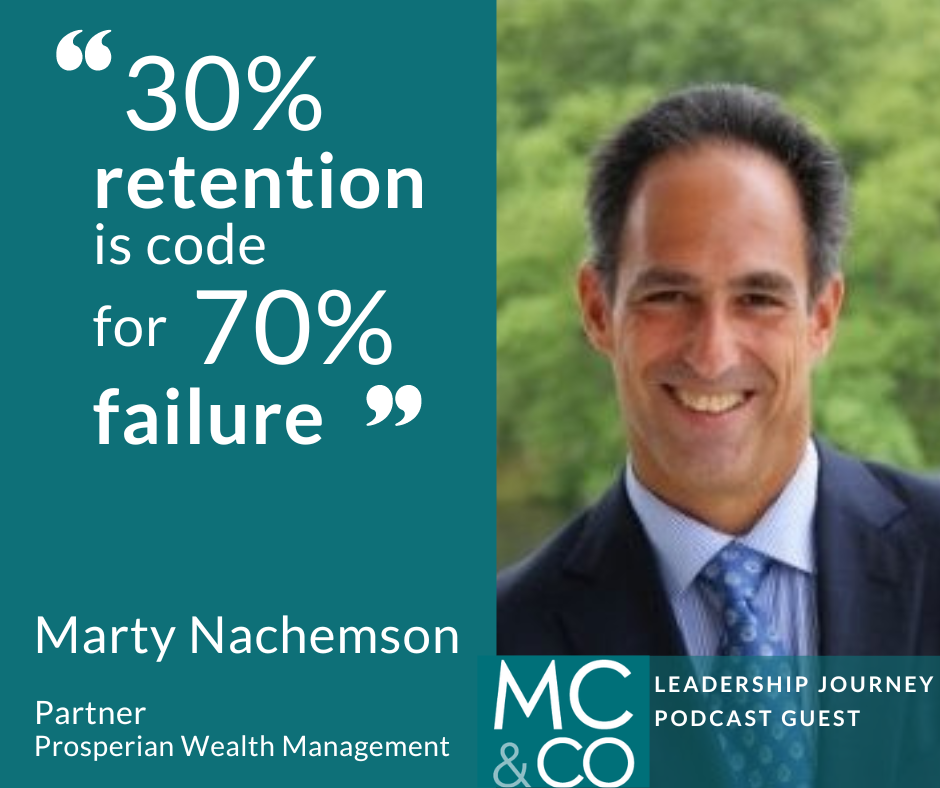 Marty Nachemson, Founding Principal and Managing Partner of Prosperian Wealth Management (my long time client!) reveals the playbook on exactly how he has built an extraordinarily High Performing Team – with an enviable culture – from the ground up.
Prosperian's success has evolved over many years, with inspiration from a wide variety of sources.  Marty is an apt student of personal and professional growth, widely read, and a leader committed to the long-term success of his Team and clients.  During our podcast, he covers many of the critical practices behind the Prosperian Team's impressive growth.  
Here are highlights of the four key moves that Marty dedicated himself to achieve his ideal of a high-performing team who are incredibly efficient at execution: 
Be curious, dedicated and courageous in order to revolutionize an outdated business model.
Explore modern or even past business ideas that can be applied to your current business model.  Be willing to view things from a different perspective. Rededicate your team to the processes, systems and culture that you believe will be essential for success. As Founding Partner of Prosperian Wealth Management, Marty constantly asks the team and their clients, "How can we be better?".
Bring back a proven model to develop Financial Advisors
The traditional recruiting, training and retention model employed in the financial services industry is broken.  Prosperian is dedicated to an effective, proven and very profitable onboarding model –  essentially apprenticeship – which has led to team confidence, positive performance, client trust and loyalty from both.
Hire to a value system.
Building an aligned team means creating a vibrant culture.  Hire to your organization's values.  Be very clear about your personal values and the company's vision and mission.  When the team connects with and is devoted to the mission, they naturally align with doing the right thing for clients and each other.  Prosperian has weekly, extremely inspiring,  employee-led meetings designed to focus on helping all employees become better human beings. Don't underestimate the power of personal growth as part of company culture.
The way to make your team scaleable
Prosperian has one process.  The staff is not managing ten different business models.  Everyone is following the exact same process.  When that is the case, training and development becomes easier and extremely effective.  Prosperian accomplishes scale through maximizing their talent, systems and processes, which ignites their productivity!
In our podcast, Marty reveals his playbook for building a high-performing Sales Team! If you want to build an extraordinary Team that works seamlessly together and puts up numbers like Prosperian's, this is an episode you absolutely cannot miss. 
Listen to the entire podcast here.