What Directors and Leaders Should Know Now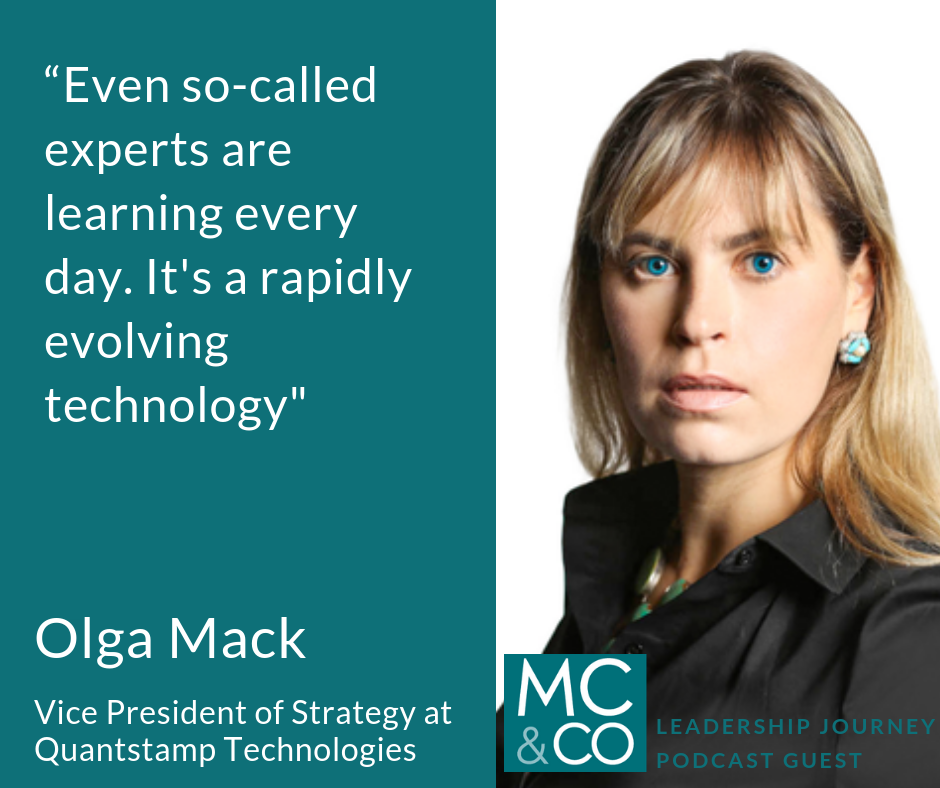 The premise of blockchain is brilliant: a decentralized ledger that eliminates the possibility for failure by taking centralized components out of the picture. Specifically, what blockchain technology is meant to do, is automate trust.  Proponents predict blockchain will bring earth-shattering changes to traditional finance, politics, data storage, and anything that requires some form of record keeping. And yet, it is frequently referred to as "the technology that nobody understands".
As a Director or Leader, what should you know about blockchain and its potential?  How can you test whether your team has a working knowledge of blockchain and what it means for your industry or organization?
During this podcast, blockchain expert Olga V. Mack explains the technology, shares its benefits and drawbacks, and gives advice on how to quickly gain enough knowledge to discuss it with your team.  A distributed ledger technology strategist and security professional, Ms. Mack is Vice President of Strategy at Quantstamp Technologies, which provides a protocol for securing smart contracts.  Olga regularly speaks on blockchain technology at events such as SXSW and TEDSanFrancisco.  Her professional passions are blockchain strategy, leadership, and innovation.
3 Ways to Demystify and Explore Blockchain Advantages
First, do a quick online search of Blockchain
These resources below are a great place to start:
TED talks from the experts
Articles on all things BlockChain
Research relevant authors
Virtual learning experiences
As you learn more about its uses and applications, consider ways it could impact how your company or industry does business. Think about specific departments in your organization that should be involved in exploring the technology and the potential benefits.
Next, reach out to people in your organization
Invite them to create a group to discuss ideas, applications, hear the newest frontiers that have been positively impacted by blockchain technology. Ask "What are the pain points of our customers/business that we might be able to address with blockchain in the future?"
Of course, this requires a series of brainstorming sessions ideally facilitated by an expert who specializes in innovation.  Mapping out pain points is the first step in identifying where Blockchain can help you outperform your competitors.
Finally, look for established experts
Look for experts who can help you build out a blockchain strategy that is customized to your organization and industry.
Once you've identified specific pain points, your team will begin researching experts to help you bring your strategy to life. As Olga points out, Blockchain is meant to be behind the scenes and designed to exponentially impact the effectiveness of performance technologies within your organization, thus positioning you to be the leader in your industry!
Listen to the Podcast
Don't miss this intriguing conversation with Olga V. Mack that will increase your knowledge and understanding of Blockchain as an emerging and revolutionary technology!